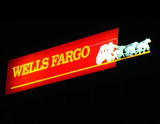 99 Percent Power courted arrests protesting against foreclosures and other wrong policies of Wells Fargo. The annual meeting of shareholders of Wells Fargo was greeted with slogan shouting Occupy protestors on the afternoon of 24th April. The police made arrests of nearly two dozen activists. Sgt. Mike Andraychak of San Francisco police force said 20 were arrested. Nearly 14 of them had entered the meeting that was being held in the financial area of the city. Others numbering six were arrested on charges of trespassing. The Sheriff's department had four others arrested.
The protest targeting the banks attracted protestors by the hundreds; many of them had links with the Occupy Wall Street.
The protestors were critical of Wells Fargo, based in San Francisco for continuing to foreclose on residences, with predatory lending, for not paying the amount of taxes that they should and for making investments in companies dealing with private prisons.
Ruben Pulido of Wells Fargo said the bank had no disregard for the right of the activists to get together but it would continue to see to the safety of its clients, of its employees and of it shareholders.
The group spearheading the action named themselves 99 Percent Power said they wanted to talk to the participants in the meeting about subjects like residential foreclosures and other issues.
Apart from Occupy activists others joined in the demonstration – union members by the hundreds and also members of the clergy. They gathered before the venue of the meeting waving placards and chanting, "We are 99 Percent! Let us in!"
The policies pursued by the bank regarding foreclosures were defended by Pulido. He said that below 2% of those loans that had been given by Well Fargo were occupied by owners and it were these that had been foreclosed upon. He said, "We work to keep people in their homes where there is affordability. Unfortunately, some people have seen their incomes drastically reduced due to unemployment or underemployment".
Last year the Sacramento Occupy group joined the international movement and demonstrated for many weeks in downtown Cesar Chavez Park. Currently there are only few protestors and since then have shifted to a lawn before City Hall.
Photo by Neubie
Leave a Reply