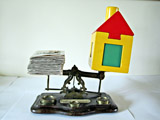 Very recently President Obama made public a plan he has to assist the house owners facing foreclosure to refinance their housing loans. The White House is confident that it will benefit millions to retain their houses through a modification programme that has the backing of the government.
Critics however have their doubts because the plan is reliant on the voluntary cooperation of the banks.
Raphael Bostic of Policy Development and Research at HUD (assistant secretary) has crafted this new initiative. Speaking to Guy Raz, the host of All Things Considered Bostic said that the plan is targeting house owners who are underwater – the value of their property being less than their loan due amount. They have so far failed to refinance their loans and take advantage of low mortgage rates; never before have the rates been so low.
Bostic said, "What this programme does is it really changes the criteria for deciding whether you're eligible for a mortgage".
Instead of gauging how deep the borrower is underwater the lender will henceforth look that previous history of the borrower as regards repayment of mortgage dues and whether they were consistent or not. He said if this was so then the house owners would be eligible for refinancing at the present rate of 4% or 5% instead of the rate of 6% or 7% that they are now paying. He explained that the money that would be now saved will go into the pockets of the people helping them to bring order in their financial status.
The process will be streamlined by this new move and closing costs would be reduced. These costs were seen to be another hurdle for refinancing.
The programme is applicable to only those mortgages having the backing of Fannie Mae and Freddie Mac. Nevertheless Bostic is hopeful that as many as 4 million mortgages will qualify for refinancing. At present there are 11 million underwater mortgages.
The refinancing will depend on the voluntary cooperation of the lenders. But the banks now understand that by avoiding refinancing they would run the risk of incurring bigger costs connected with foreclosure. These potential losses are now worrying the banks and so it is hoped that they will be more amenable to the new plan than they were before.
Photo by Images_of_Money
Leave a Reply