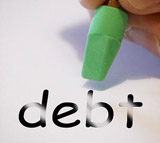 The debt sparring of the two political parties revealed the divisions within the Republicans. A cursory glance indicates that the Tea Party extremists among the Republicans won a victory over John Boehner, the Speaker of the House as well as the party.
Boehner argued with the Republicans in the Congress to join hands in supporting a parcel of cuts in spending and an increase in debt limit. But he had to face strong opposition from Rep. Jim Jordan (Ohio) who heads the Republican Study Committee. It comprises of a significant number of House conservatives.
The important Republican groups having the stamp of Tea Party (FreedomWorks, Club of Growth, Heritage Action for America etc) opposed Boehner also. The allegation was that his plan was not inclusive of any clause regarding amendment of the constitution putting limits on federal spending. They defeated Boehner as he failed to get the original number of votes he wanted to see so that his original plan worked.
But the clout of this extreme faction is not as powerful as it appears. It is the constituent organizations speaking for populist revolt that won the House for the Republican Party last year.  But they failed to persuade the bulk of the Republicans to throw in their lot with them. Approximately 88% of the Republicans in the House gave their support to Boehner. They were on his side even when some groups gave the warning that they would inform their followers the representatives voting against them were not real conservatives.
The majority of fresh representatives of the Republicans gave their support to Boehner and not the group of activists. The bulk of the members of the study committee stood beside Boehner and not the leader of the committee – Jim Jordan. Many of the Congress who had strong links with the Tea Party gave support to the Boehner bill also; the names of Renee Ellmers (North Carolina), Allen West (Florida) and James Lankford (Oklahoma) can be mentioned.
In spring this year there was a repeat situation. Most of the Republicans in the House cast their votes for an understanding to keep the government running although the activists among the Republicans said they would cast negative votes. In the field a mere 59 Republicans voted negatively and once more the freshmen and the bulk of the study committee members supported Boehner.
The freshmen among the Republicans close to the Tea Party have been misunderstood. They are not one and all hostile stridently against compromise; good numbers of them are experienced and practical.
One Response to "The Debt Sparring of the Two Political Parties Revealed the Divisions Within the Republicans"
Cleo Mauss Says:


You actually make it seem really easy together with your presentation however I find this topic to be actually something which I think I would never understand. It seems too complex and extremely extensive for me. I am having a look forward for your subsequent post, I'll try to get the grasp of it!
Leave a Reply